Monday 9-May-2016, 06:52 PM (This post was last modified: Monday 9-May-2016, 07:21 PM by Baytrooper.)
Date:
Saturday 7th May 2016
Venue:
EB Games Hervey Bay
Time:
8:00am - 3:00pm
Mission:
To help EB Games raise funds for Starlight Week
Trooper Attendance:
22422 - Baytrooper - Snowtrooper
37781 - DarkFather - ROTJ Royal Guard & ROTJ Darth Vader
91397 - Firestorm - TIE Reserve
30207 - PhantomBlade - ISB Officer
Support Crew / Guest Trooper Attendance:
Cadet - satan_spawn_666 - Wrangler/Photographer -
Who did an awesome job for his first attempt. He kept an eye on all of us very well and captured some great photo's.
(See Link at bottom of Report)
Details:
After a successful mission in the Bundaberg sector, the Troopers regrouped the next day at the Hervey Bay outpost, securing The Razorbacks stronghold in the area and attempting to replicate the awesomeness that is the Redback Garrison - 501st Legion. The mission to raise funds for Starlight Week started early and the Troopers moved in quickly to secure the location.
Dean, the manager of EB Games was promptly informed of his required compliance to the Empire's rule and accepted that today, the Empire was running the show.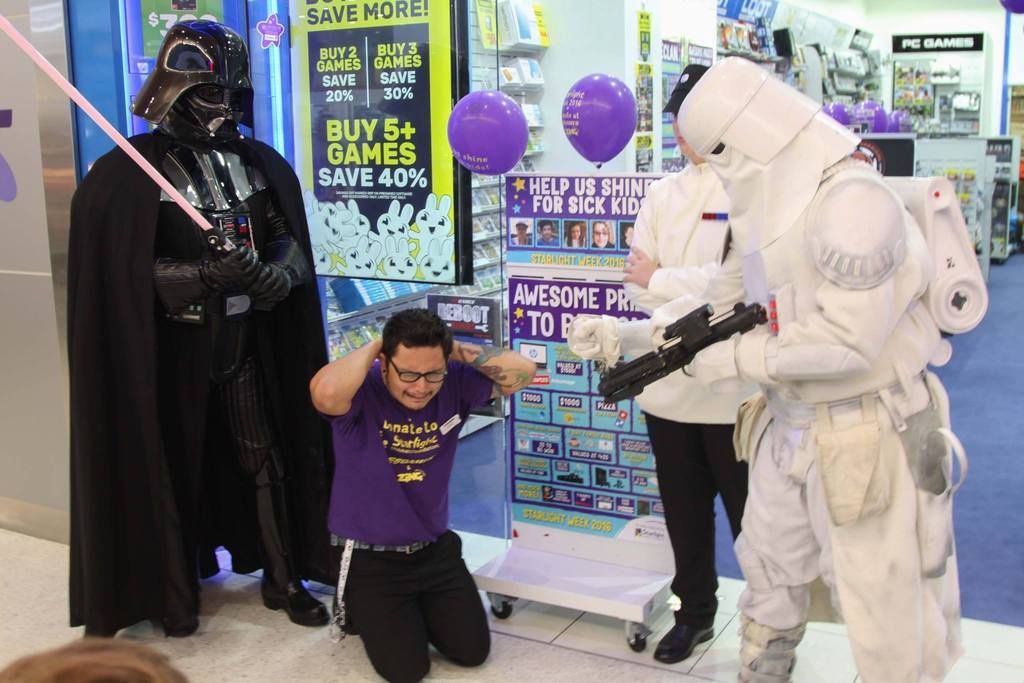 After striking fear into the staff, we then decided on striking a pose, showing that we were in fact angels in disguise.
We then kept a close eye on proceedings and ensured that the credits collection ran exactly as the Emperor had foreseen.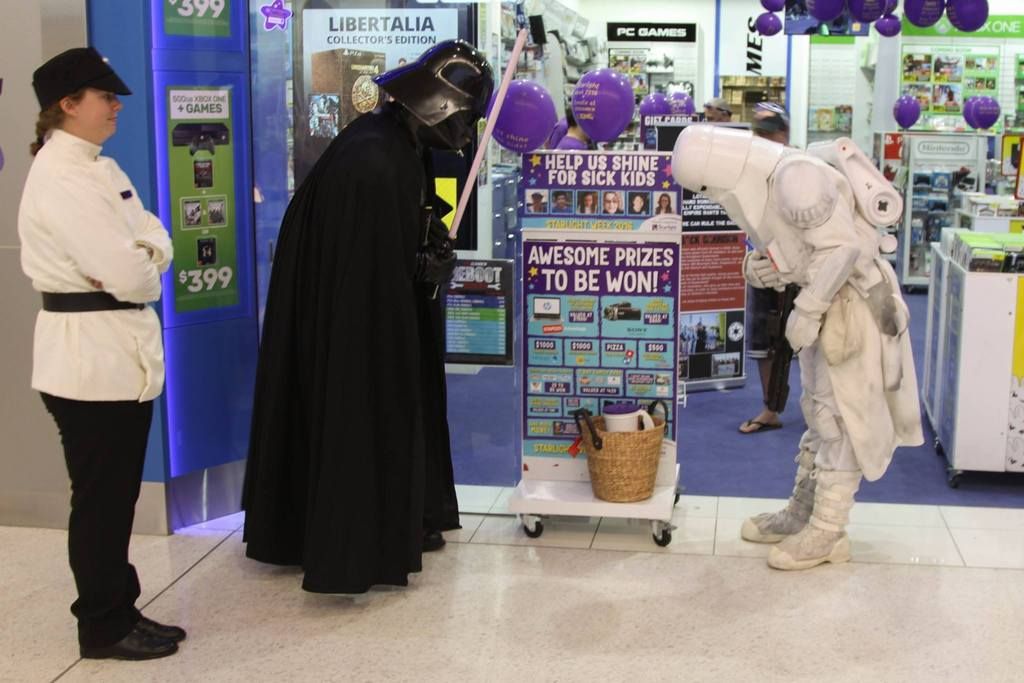 After hitching a ride in a spare seat on a TIE fighter, we had back-up on hand to collect credits from the citizens.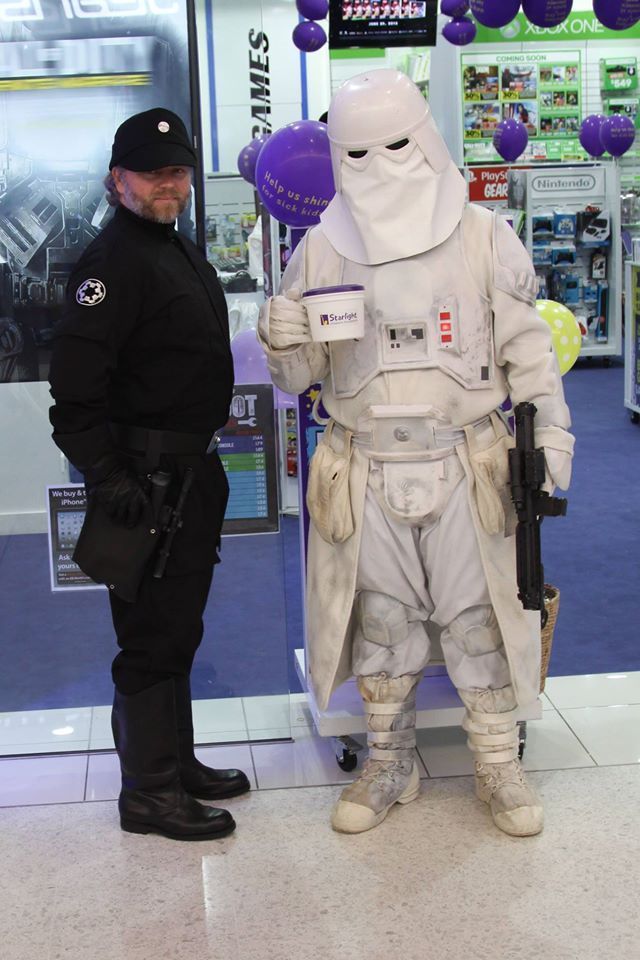 We had an Officer keeping a close eye on the Troopers, although she failed to stop the Royal Guard from his shenanigans as he entered the zone to entice the citizens to donate credits to the cause.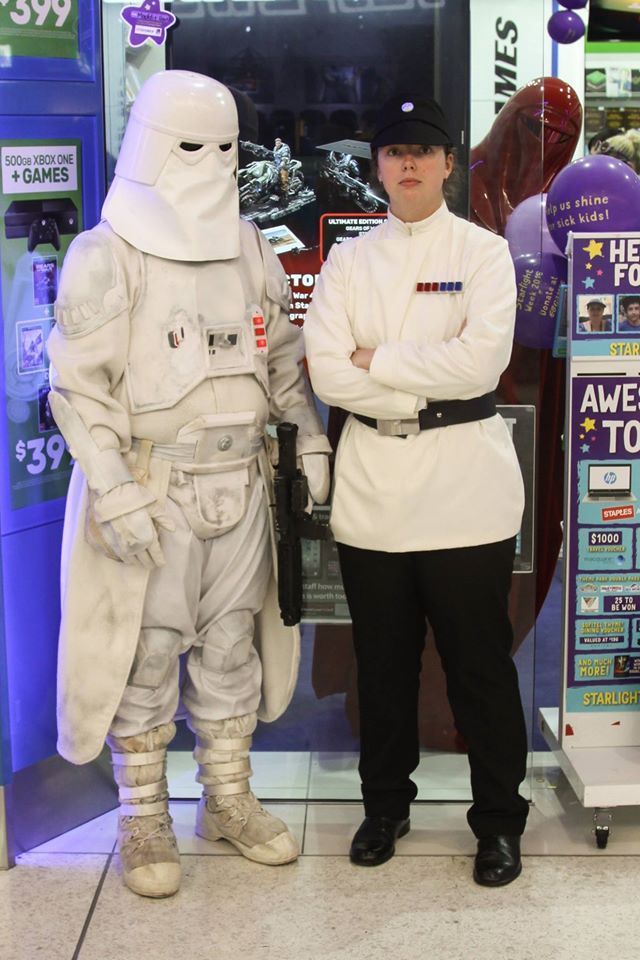 After "Rocking Out"
with a local Guitar Hero,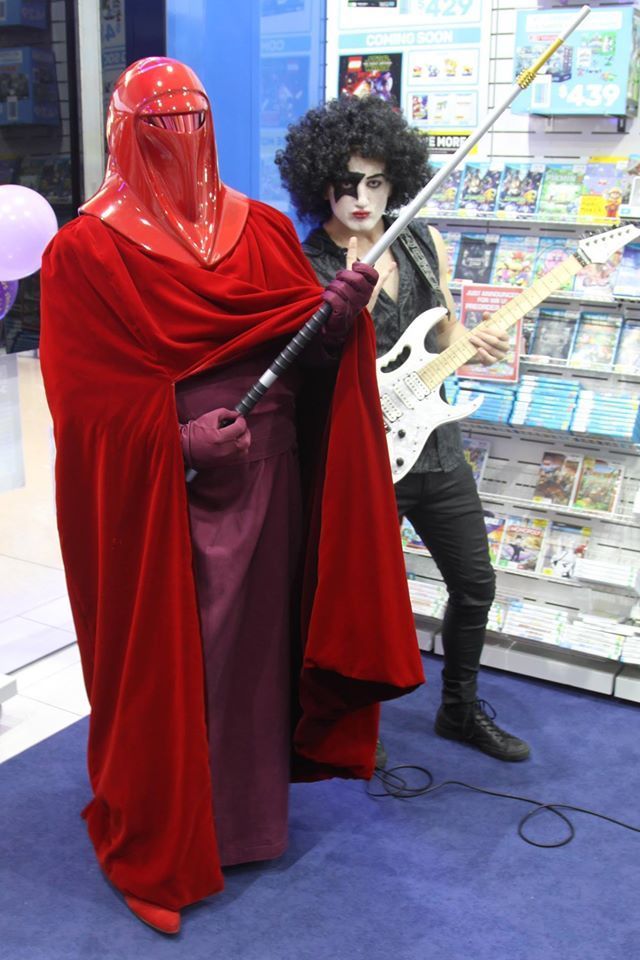 the Guard then got back to the business of attracting the citizens into the sector.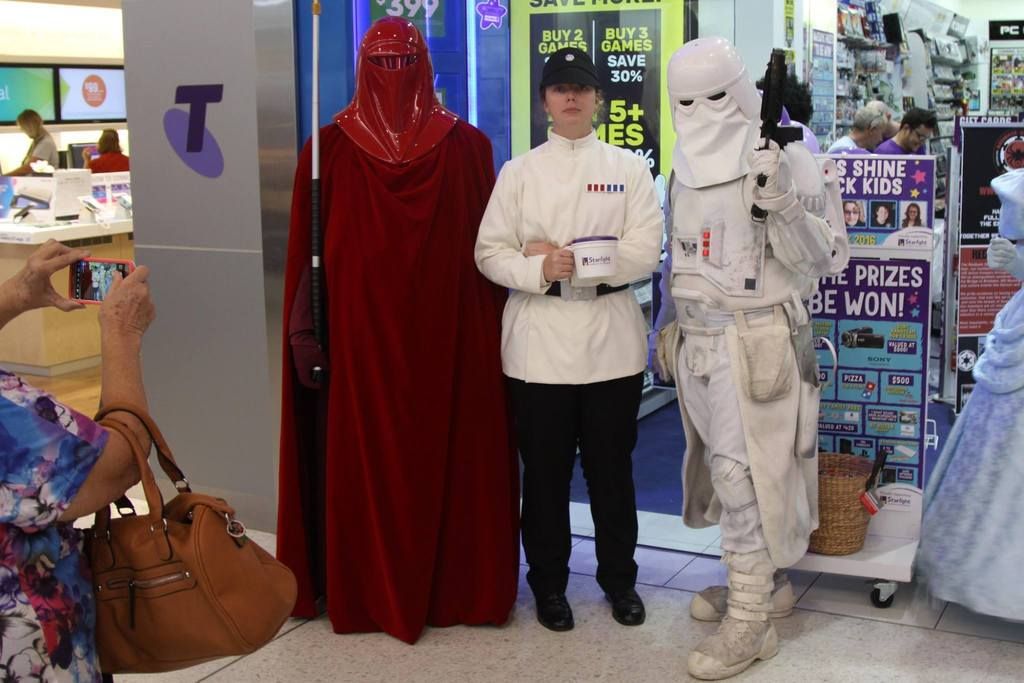 We had lots of pictures taken on the day with members of the public, who appreciated our presence and donated with passion.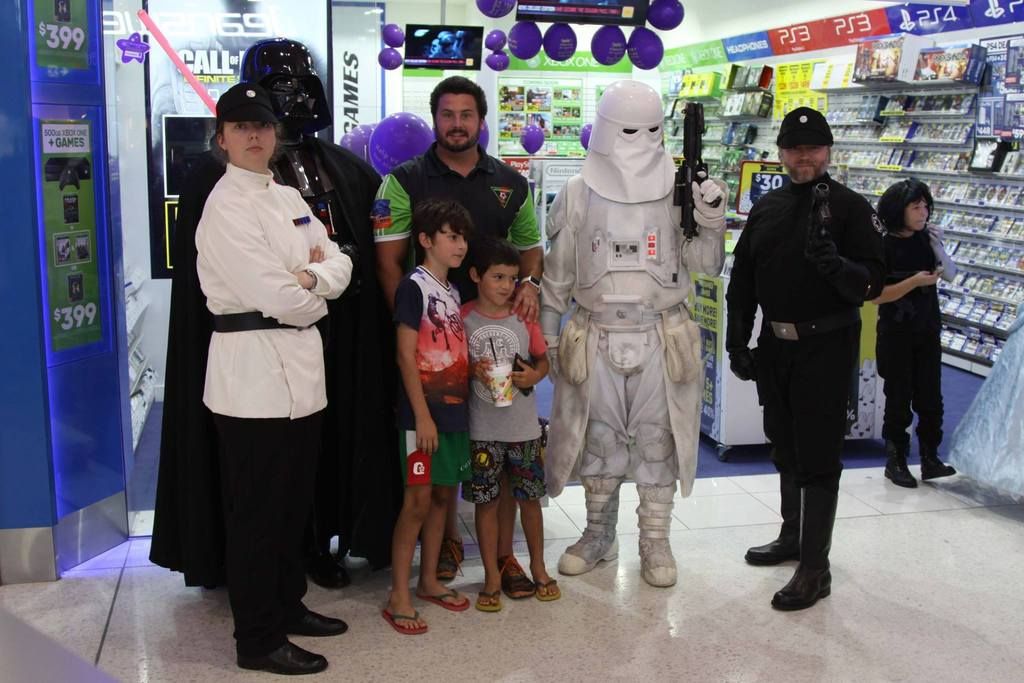 Charity Funds Raised:
$748.50
Injuries / Malfunctions:
Nil
Public Incidents:
Nil
Mission Status:
Very Successful. It was the Hervey Bay stores biggest day of fundraising for the week. They were very thankful we were there.
Photos: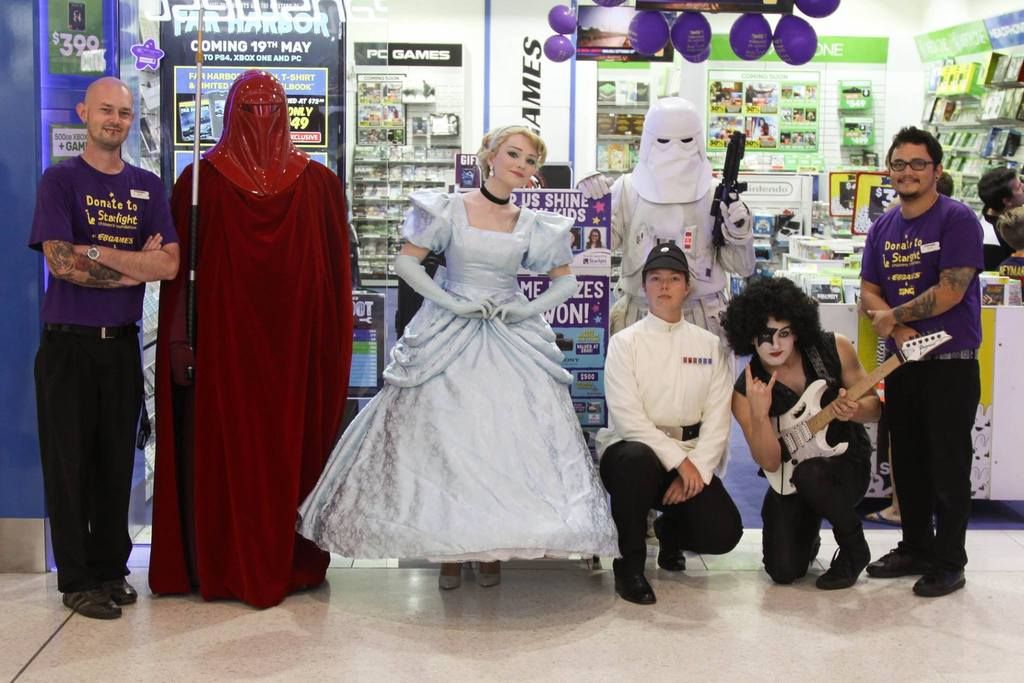 Our resident Jawa scavenged some parts during the lead up to the mission
that turned out to be laced with some sort of Galactic infection. He was there in spirit with us though. We missed ya buddy.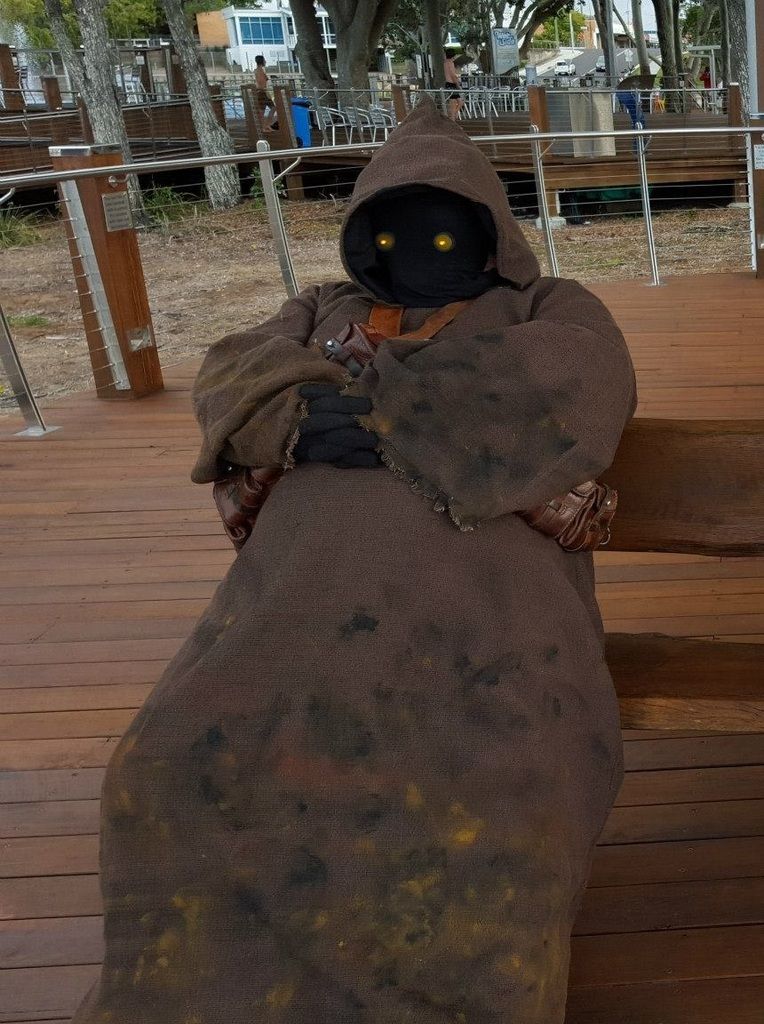 CLICK ON THIS TEXT TO SEE MORE PHOTO'S
+
-- Still working on