Saturday 1-Sep-2012, 07:32 AM

(This post was last modified: Monday 3-Sep-2012, 08:59 PM by Moxxxie.)
I'm pleased to be able to report TK-8547 Bullant has passed basic training and is ready to report for duty.
Congratulations Andrew. You need to get moving, there seems to be a reactor problem Sector 7G.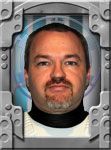 "Research, THEN, make it look like the picture!"