Monday 29-Apr-2013, 09:30 PM
I don't know how I missed this big fella. My apologies J.
Please make welcome the Redbacks Republic Commando Boss RC-6300 Cutter.
Excellent work J. It fits you well mate. Now round up the rest of your Delta Squad.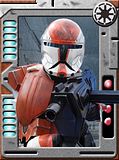 "Research, THEN, make it look like the picture!"