Monday 5-Aug-2013, 09:28 PM
Please welcome the newest member to the Redback Garrison TK-50180 Donut.
It took you a while Matt but you are finally here. Great work on the TK, hope to see you out trooping with us soon.
Your deployment orders will be forward to you shortly, stay alert.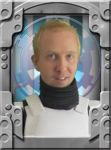 "Research, THEN, make it look like the picture!"