Wednesday 21-Aug-2013, 01:07 PM
I can't believe I missed this guy....see what happens you turn your back and more jawas just appear.
Please welcome the newest, well sort of, member to the Redback Garrison growing Jawa clan DZ-19770 Spooky.
Nice work Craig. The sandcrawler needs cleaning....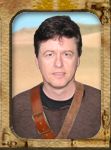 "Research, THEN, make it look like the picture!"