Monday 16-Sep-2013, 10:39 PM
"at last, we will reveal ourselves to the Jedi..."
Please make welcome our latest Sith Lord SL-8548 JOker Darth Maul.
Well done Garrett...Now off to Naboo, there you will find Qui-Gon Jinn and his apprentice, Obi-Wan Kenobi....do not underestimate Kenobi's skill.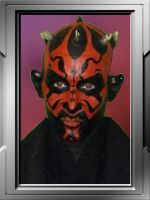 "Research, THEN, make it look like the picture!"