Wednesday 31-Jan-2018, 04:03 PM

(This post was last modified: Wednesday 7-Feb-2018, 02:14 PM by Nighthawk.)
Date:
Tuesday 23rd January 2018
Venue:
Eimeo Rd State School, Mackay
Time:
8:30am - 9:00am
Mission:
To provide an extravagant arrival to school with StarFM101.9 for 2 young brothers and bring the Redback awesomeness to the year ahead.
Trooper Attendance:
Redback Garrison:
Gix TK 29841
Nighthawk ID 17168
Details:
 We arrived at the first day of school with the rest of the students blissfully wishing we were that young again!  We found the StarFM vehicle and got sent straight to the Principal's office.... luckily it wasn't detention this time.  We went back to the vehicle and did a quick change hidden behind the vehicle.  Once dressed and ready and waiting for the 2 brothers to arrive, we had the Star Wars theme being played on the trumpet by another volunteer from Star FM.  What an awesome sound!!
The two brothers arrived so we started on our way into the school and classrooms.  This was a perfect opportunity to help the lollipop ladies direct the traffic to ensure no rebel scum stopped our procession.  Excited kids (and big kids also who were dropping their little padawans off) were excited and the usual "There's Vader" comments ensued a few times.
After successfully ensuring these two boys were the coolest kids in the school, and then getting the classroom photos with the Stormtrooper and the Imperial Officer - the kids were full of excitement and hyped up for the day! Ahh.. as good as giving them sugar!
  our work here is done!  
Charity Funds Raised:

Nil
Injuries / Malfunctions:
Nil
Public Incidents:
Nil
Mission Status:
Complete Success with the kids all hyped up!
Photos: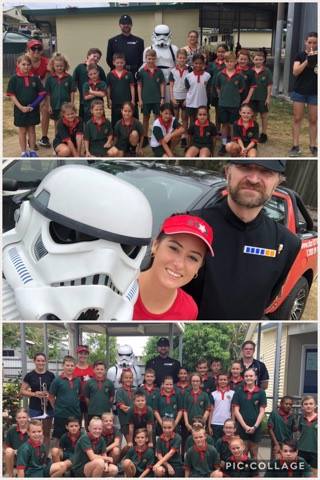 Renae (Gix)
Save